09 April,2020, Clear passed the pre-qualification of classification by DAEP (Dubai Aviation Engineering Project) group, 048- specialized services (Bio Toilet), and became the first selected supplier for the bio toilet and relevant devices for the world's largest airport- AL Maktoum International Airport.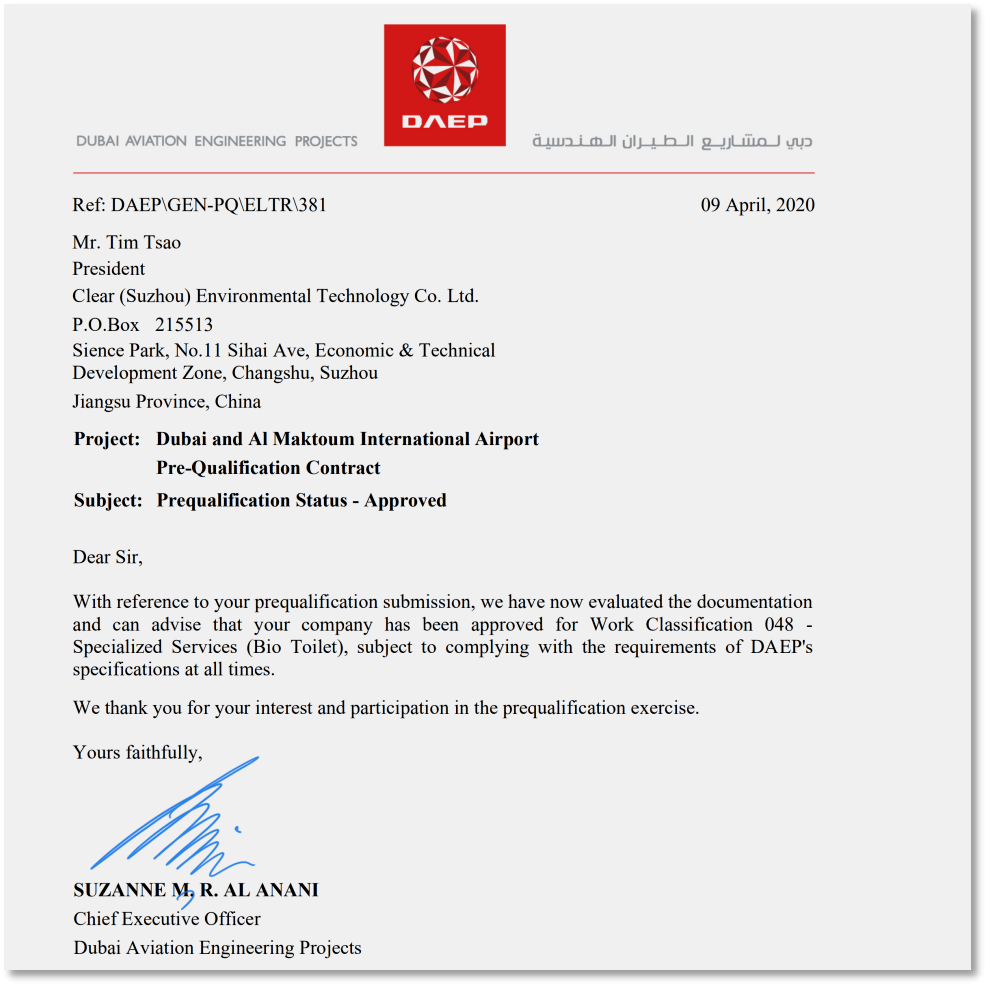 Clear's product line mainly includes:
· Biological Water Treatment & Recycling Plants
· Portable water recycling toilets
· Hospital sewage treatment plants
· Restaurant / Industrial oil grease traps
· Pumps...etc.(See more details on :https://suzhouclear.en.made-in-china.com/product-list-1.html)
Clear systems are most suitable to water & energy scarce areas, and are applicable to wide range of altitude, humidity and temperature in different terrains and functions such as remote tourist sites, countryside communities, train stations, airports, harbors, mountain climbing camps, military camps, highway tolls, industry or agriculture zones, schools, household buildings and all water / municipal network deficient areas.
Compared with traditional sewage treatment facilities, Clear's products stand out with their high water sanitation performance and off-grid-able features (listed below) :
a. 99.99% killing of water borne bacteria and parasites by its biological processing design which stops broadcasting of disease on spot;
b. Off-grid-able operation: Can run without tap water resource or electricity pipeline.
c. Large scale cost down in water and energy consumption - Cost can be as low as 2-5 US cents/use.
d. Easy to be transported, installed, commissioned and even re-located - Modular (container) for truck transportation, installation and commissioning can be done within 2-4 days.
e. Small land consuming - Reactor with higher efficiency saves about 30% space compared with traditional ones.
f. Saves manpower - Can be monitored and managed by cell phone App with which one manager can supervise 10 units on scattered spots.